$25 via DiscoveryChannel.com
UM, AUTOGRAPHED BY THE JOE KENDA?! #YESPLEASE! Not only is Joe Kenda the national crime-fighting treasure of our
country
world, he's basically the ID Channel's legend of all legends. I mean, for the price of one (1) Cinemark-NorthPark movie ticket and bag of popcorn (the size of a toddler's knee cap, BTW) you could instead be saying "My My My!" with the limited edition My My My Mug. I don't know how else to express my feelings on this priceless gift besides listing it at numero uno. My only other wish was that the My My My Mug came in My My My Wine Glass version as well; w
hich I expressed very well to the Discovery online store people. (Because that's how much I love ya, JDL, so you're welcome!)
#2
LEACHCO SNOOGLE TOTAL BODY PILLOW
$60 via Amazon.com
If you want to gift warmth, love, and support (literally and figuratively speaking)
to that 25-year-old single niece of yours, here ya go! No massive Alaskan husky or lover-man-friend-boy-thing to nap with? Worry no more! As long as it's ordered in the mauve color pictured above, and not
the other khaki, white, and gray colors offered, for obvious 20-something lady reasons,
the Snoogle Pillow will solve your homegirl's problem* instantly!
[ *Disclaimer - It is not advised that Snoogle be used, given, and/or expected as a permanent and/or professional solution (i.e. therapists, Lexapro, Patti Stanger individuals, etc.) to any assumed single lady or single-something problem(s). ]
#3
THE CRAZY CAT LADY GAME
$20 via Amazon.com
Gah. Talk about an A++ for this one. I mean, really, does this even need a sales pitch? I think not. And if you think so, well, we can't all be #blessed, so perhaps it's best you click out of here and on to Google to search the word 'humor' and read all about it.
#4
CRAZY CAT LADY COLORING BOOK
$8 via Amazon.com
Coloring book therapy is all the craze currently so not only is this the cheapest coloring book I've found, it's also the most GENIUS because it involves cats and we all know animals are natural therapists, so this one's a double whammy. Heck, you don't even need an excuse like the holidays to gift this to someone!
#5
HOMICIDE HUNTER FLAT KENDA
$10 via DiscoveryChannel.com
Again, this one's a no-brainer, folks. See #1 for any confusion re: this mini cardboard cut-out of The Honorable Joe Kenda. My desk needs it. Your desk needs it. Really, all of our desks need it.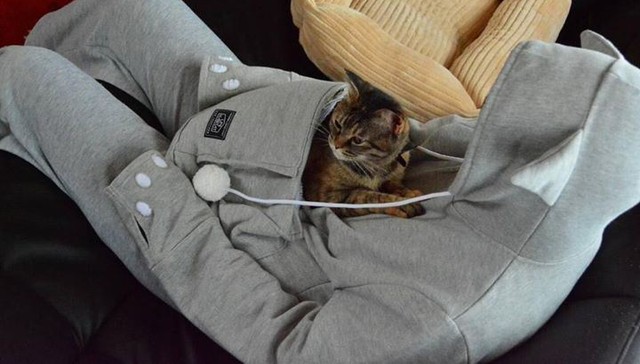 Because only a 20-something "cat lady" could get away with wearing this remarkable piece of clothing. Sure, it's kinda lame that with such a hefty price tag no cat is included. But then again, Unihabitat is a Japanese company with a website written only in Japanese, so, I mean, for all I know a cat may be included in all the fine print. Regardless, major snaps to Stephen Messenger of The Dodo animal website-blog for this groundbreaking piece of journalism, and a major thanks to my fabulous co-worker/friend, Christine Lara, for sharing it with me! Now we all can have this Japanese work of art philanthropic, multi-purposed wardrobe staple in our closets!